• Banwari Tola • breaking gender stereotypes • equalitee • gillette • gillette india • sachin tendulkar • shaving stereotypes • the best a man can be
Brands Breaking Stereotypes Advertising content reflects and shapes social values. Brands stay sharply tuned into the public mood, they are quick in picking signals of change and then amplifying them. Over the last few years there has been a definite shift in how gender roles get represented in ads with several brands also making a statement  and taking a stand on the theme of gender equality. Image Source: The Representation Project Starting this month, we will be looking at these brands who are trying to shift the narrative and break status quo. We start with Gillette, a brand that's been in...
---
• equalitee • gender equality • kidsstoppress • kspawards2018 • kspawards2018 indianparentingawards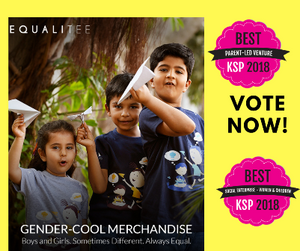 My 4-year old has been asking some interesting questions lately.  Why are there no girl drivers? Why are all soldiers boys? Why are there no boy teachers in the school? It's incredible how a very young child can spot the gender gap and find it to be an anomaly. They find it puzzling, what we adults grow to accept as normative.  I feel as strongly about the need to challenge these norms today as I did nearly a year back when we launched EqualiTee in June 2018 to challenge gender stereotypes in early childhood by introducing visual imagery through a...